Attorney Ashley Witte Dawson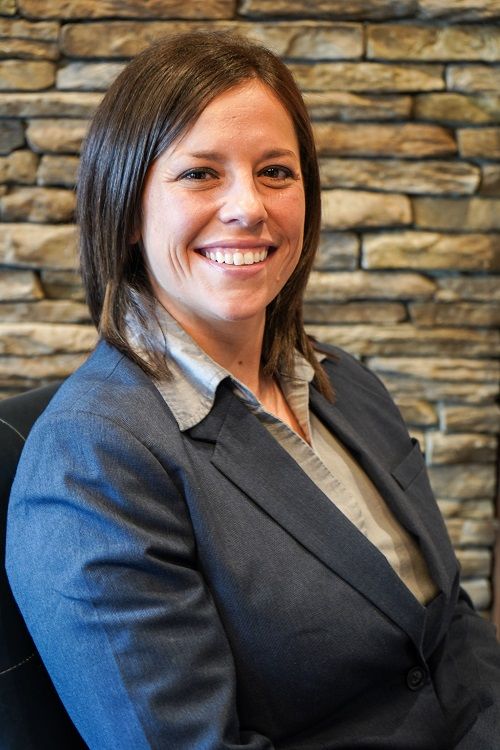 A Reputation of Hard Work & Success
Ashley is a native of Northern Kentucky. Through her catholic upbringing, Ashley learned the value of hard work and discipline. At a very young age, it was apparent that Ashley would one day grow up to be an attorney. She always advocated for the "underdog." Her family noticed Ashley was skilled in debate, persuasion, and negotiation.
She would negotiate anything from grades, to allowance, to curfew – she refused to settle on a first offer, no matter what the situation. Ashley even negotiated the purchase of her very first car at the age of 16. To this day, she continues to negotiate vehicle purchases for herself, her family members, and members of her law office.
Experience
During her teen years, Ashley became intrigued with the law and legal system. This lead to her attending Morehead State University, where she focused her studies on Criminology. Something about the criminal justice system captivated her to the point she became desirous of focusing her efforts towards becoming a criminal defense attorney. During law school, her interest in criminal law became even more overwhelming when Ashley discovered everyday citizens were not always treated fairly within the legal system. Ashley began discovering that the general public often believed criminal defendants were automatically guilty based on flagrant allegations even though everyone is innocent until proven guilty. After graduating from Salmon P. Chase College of Law, Ashley partnered up with Adam Boyd Bleile and began focusing her practice on criminal defense.
One of Ashley's first cases involved a young adult accused of a sex crime. Ashley quickly realized the client was a good person that was simply in a bad situation. Both the prosecutor and judge attempted to bully Ashley into a guilty plea because of the fact she was a new attorney at the time. Ashley stuck to her guns and refused to be bullied, especially as her young client's future was on the line. The court system's intimidation did not work. Instead Ashley sought to discover the truth. During her independent investigation, the accuser recanted the allegations. When Ashley brought this new information to the court, the judge and prosecutor again attempted to force a plea to the point the judge even threatened to hold Ashley in contempt and throw her in jail if she did not withdraw her motion. Ashley refused and continued to zealously advocate for her client. Eventually the entire case was dismissed and the client had a new chance for a bright future. After that case, Ashley's eyes were opened to the true colors of the criminal justice system and she vowed to never back down or be bullied.
Ready to Take on Your Case!

While Ashley goes to battle every day for her clients, she has also come to be known as your everyday girl next door. Everyone likes Ashley. Her charming personality allows her to excel in this profession. Ashley's likeable demeanor, coupled with her aggressive defense techniques, makes her a well-rounded attorney. She always enters every legal battle with a bright smile on her face. However, prosecutors never mistake her kindness for weakness.
Ashley's personal life is rather diverse. She participates in kickboxing classes on a weekly basis. She is an active member of the NRA, has her concealed carry license, and frequently visits different outdoor shooting ranges to improve her skills. Something Ashley finds very relaxing is couponing – it is her Zen. Ashley regularly attends outdoor events such as concerts, professional sporting events, and festivals as she believes in supporting local venues. She enjoys playing piano in her spare time and like a true Kentuckian, is a bourbon connoisseur - she even completed the renowned Kentucky Bourbon Trail. Finally, Ashley's competitive nature is exhibited in her bowling league, where she has achieved the highest score award in consecutive years.
Over the years, Ashley has been overwhelmed with the encouragement and appreciation expressed by both colleagues and clients. She regularly receives personal handwritten "thank you" notes from clients expressing their gratitude. In addition, Ashley is overcome with emotion by the frequent embraces she receives from her clients at the end of a case. It is not uncommon for Ashley's clients (and their families) to acknowledge the vast difference she made in their lives. It is gestures like this that keep Ashley going in this sometimes unfair and tough system we call legal justice. Ashley truly cares about her clients and develops excellent relationships with them. She makes it a habit to check in on past clients periodically to ensure they are doing well and continuing along the path to success.
Areas of Practice
Litigation Percentage
100% of Practice Devoted to Litigation
Bar Admissions
Indiana
Kentucky
United States District Court Eastern District of Kentucky
United States District Court Western District of Kentucky
Education
Salmon P. Chase College of Law, Highland Heights, Kentucky
Morehead State University, Morehead, Kentucky

B.A. (Magna Cum Laude)
Honors: Dean's List
Major: Criminology
Professional Associations and Memberships
National Association of Criminal Defense Lawyers (NACDL), Life Member
Kentucky Association of Criminal Defense Lawyers (KACDL), Life Member
Northern Kentucky Bar Association, Member
Kentucky Bar Association, Member
American Bar Association, Member
The National Trial Lawyers Top 40 Under 40
Reform Sex Offender Laws Inc. (RSOL), Member
Advisory Committee for the Paralegal Program at Beckfield College
Global Directory of Who's Who Top Attorneys - Honored Member
National Rifle Association
Super Lawyers Rising Star, 2017 - 2020
Indiana Trial Lawyers Association
Past Employment Positions
Department of Public Advocacy, Criminal Defense Team